Adopt a penguin of your very own and name it.
- as seen on BBC TV and Animal Planet
- praised by the British government &nbsp &nbsp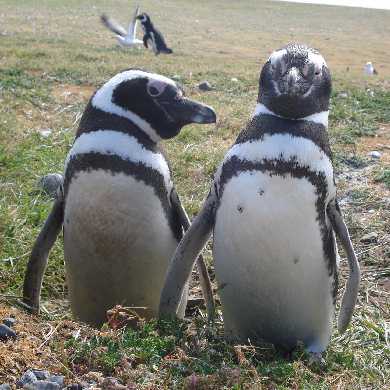 &nbsp &nbsp
Who doesn't love penguins? Who wouldn't want one of their own? Adopt a penguin, choose a name for your penguin, and we will send you regular news and photos of your penguin's progress. You will also receive a map to show you exactly where your penguin lives, in case you ever want to visit (Visitors are welcome). You will receive eight updates per year, with news and photos of your penguin, its home, some of its friends, and its chicks when they hatch. All for just $59 per year.
Adopt a Penguin makes a perfect gift for adults or children, or an interesting school project that will help children to learn about penguins in an interesting and entertaining way. The information we send out about each adopted penguin is tailored to the age of the adoptee, so that it will be educational as well as fun. The adoption fee pays for us to monitor and protect our adopted penguins.
The cost of adoption is US$59 and we offer three easy payment options:
.
1. PAY with PAYPAL
.
2. CREDIT CARD Payment Form
.
3. CREDIT CARDS with MULTICARDS
.
ORGANIZATION FOR THE CONSERVATION OF PENGUINS
CHILE: Casilla 263, Punta Arenas
ARGENTINA: San Martin 2110, Mar del Plata
FALKLAND ISLANDS: PO Box 434